Luis G. Carvajal-Carmona selected as HACU Leadership Academy fellow
Program is designed to increase Hispanic representation in higher education leadership positions
(SACRAMENTO) —
The Hispanic Association of Colleges and Universities (HACU) today announced that Luis G. Carvajal-Carmona has been selected as a fellow for the third cohort of the Presidential Leadership Academy (La Academia de Liderazgo). The prestigious one-year HACU program is designed to prepare the next generation of culturally diverse leaders for executive and senior-level positions in higher education.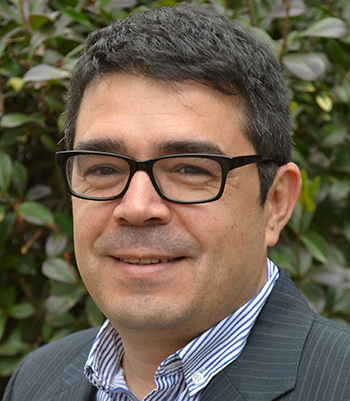 Luis G. Carvajal-Carmona
HACU launched the Leadership Academy in 2019 in response to a declining rate of Hispanic university presidents — from 4.5% in 2006 to 3.9% in 2016. At the same time, colleges nationwide have seen unprecedented growth in Hispanic student enrollment.
Carvajal-Carmona is a professor and the Auburn Community Cancer Endowed Chair in the Department of Biochemistry and Molecular Medicine. He is the associate director for basic science at the UC Davis Comprehensive Cancer Center and the co-director of the Community Engagement Program at the Clinical and Translational Science Center.
Carvajal-Carmona is also the founder and director of the Latinos United for Cancer Health  Advancement (LUCHA) initiative, which aims to increase Latino participation in cancer screenings, research studies and clinical trials. LUCHA's ultimate goal is to improve cancer health outcomes among Latinos by using community-driven and culturally- and linguistically-appropriate and respectful approaches.
Current research in Carvajal-Carmona's laboratory, funded by the National Cancer Institute, is focused on gastric and liver cancer genetics and precision medicine in minority populations.
Before joining UC Davis, Carvajal-Carmona was a senior research fellow at the Wellcome Trust Centre for Human Genetics at the University of Oxford.
Carvajal-Carmona is the third faculty member from UC Davis selected for the program. Previous fellows from UC Davis include law professor Raquel Aldana, a member of the 2019 cohort, and history professor and associate vice chancellor for academic diversity Lorena Oropeza, a member of the 2020 cohort.
Program has goal of increasing leadership
The Leadership Academy/La Academia de Liderazgo seeks to increase the number of talented individuals who aspire to leadership positions at Hispanic-Serving Institutions (HSIs) and emerging HSIs. Fellows participate in an array of leadership development activities to prepare them for leadership roles in the full spectrum of institutions of higher learning with an emphasis on HSIs and emerging HSIs.
More than a dozen nationally recognized current and emeriti presidents and senior-level administrators serve on the faculty. Mentorship with a university president is a key component, as well as the development of a special project designed to have an impact at the fellow's current institution.
More information about the HACU Leadership Academy/ La Academia de Liderazgo is available here www.hacu.net/leadershipacademy.